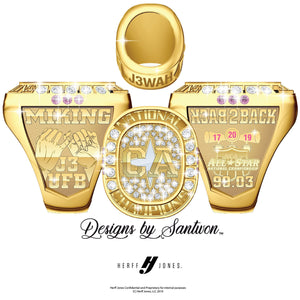 California Allstars J3 - 2020 NCA ASN
This custom "Designs by Santwon" ring shows off the gold! White sparkling stones fill in the top of the ring. There are three pink stones on each side. Left side is personalized with your name. Right side showcases 3 NCA wins. J3WAH is engraved palm side. Inside engraving allowed.
Ring will ship directly to the individual.
*The 3X may deviate slightly from the design and stone count will differ.*