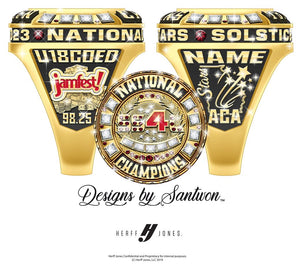 National Stars Solstice - 2023 JamFest Cheer Super
Per ACA and National Stars, if you have a balance with the gym, your ring order will not be approved for production. It will be canceled and refunded to the original form of payment. The link will remain open for those that may need to order at a later time once all dues are settled with the gym.
This ring is crafted in a gold-tone, non precious jeweler's alloy. The strength of the metal allows for durability and long-lasting wear. Personalization is allowed on the right side of the ring. Engraving on the inside is allowed.
Orders take approximately 14-16 weeks to produce from group order submission date. Note - certain features may require additional production time.
Stone color may vary in finished product.
Ring will ship directly to the individual.