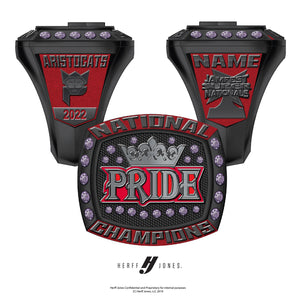 Pittsburgh Pride Aristocats - 2022 JamFest Super Nationals
This ring is crafted in a black-tone, non precious jeweler's alloy. The strength of the metal allows for durability and long - lasting wear.  Personalization is allowed on the right side of the ring and engraving inside of the ring.
Orders take approximately ten weeks to produce from group order submission date. Note - certain features may require additional production time.

Stone color may vary in finished product.
Ring will ship directly to the individual.