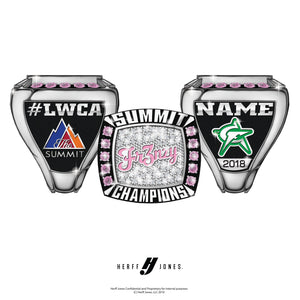 CheerForce Fr3nzy - 2018 Summit
This ring is crafted in a silver tone, non precious jeweler's alloy. The strength of the metal allows for durability and long-lasting wear. Personalization is allowed on the right side of the ring. Engraving is allowed on the inside.
Orders take approximately 14-16 weeks to produce from group order submission date. Note - certain features may require additional production time.

Image is concept art. Stone color, enamel color and final product may vary slightly. 
Ring will ship directly to the individual.