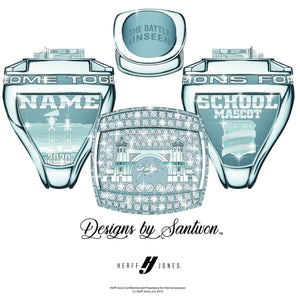 NCA/NDA College Nationals - 2020 Legacy Ring
In honor of your hard work and dedication, this legacy ring commemorates your journey to Daytona and a season that will remain unfinished. It features the iconic bandshell on the top and the NCA/NDA trophies on the beach on the side. Right side is personalized with your school name and mascot. Left side is personalized with your name. OVERCOME TOGETHER CHAMPIONSFOREVER encircles the perimeter. THE BATTLE UNSEEN is engraved on the inside of the ring.
Orders approximately 12-14 weeks to produce from order submission date.
Herff Jones is the exclusive provider of Varsity Spirit Championship Rings, the only rings that will carry the official championship logos.